Share The Soap
Regular price
$99.99
Sale price
$85.99
Unit price
per
14% off!
Sold out
If exfoliation resulting in soft and moisturized skin is what you're after, look no further! This bar contains coffee grounds that are freshly roasted locally resulting in superior quality. Did you know that coffee is said to be good for skin in several ways? Just do a Google search and you'll see what we mean with words that come up like cellulite and tightens and more!  Note: The grounds are a strong exfoliator so you won't want to use this on your face.

This goat milk soap loaf is loaded with luxury oils like unrefined shea butter, organic natural cocoa butter, and more that will leave your skin fresh and silky smooth. Goat milk ensures your newly exfoliated skin that is now soft as a baby's bottom, retains moisture leaving it polished and silky smooth. Now, this bar also includes kaolin clay!

Ingredients: goat milk, purified water, BlackRabbit coffee grounds, Saponified oils: Organic Coconut, coffee-infused olive, lard, castor, organic soy, organic natural cocoa butter, organic shea butter, goat milk powder, essential oils: coffee, peppermint, vanilla coffee flavor oil, kaolin clay.



Each bar is loaded with:
• skin-loving oils like olive, coconut, jojoba, and more.
• Organic shea butter, organic cocoa butter, and beeswax add a richness that your skin will love plus it makes the bar last longer for you!
• Goat milk helps your skin to retain its own moisture. (We purchase the goat milk from our girls who have a small goat herd when they have milk available).
• Pure essential oils add a wonderful aromatherapy session leaving your spirit refreshed and uplifted.

How long does one of our bars typically last?
• For 1 person it will last approximately 3-4wks, HOWEVER, a lot depends on how the bar is used (with a poof or bag, how many times the bar is suds up, etc.), how often showering, and if soap is allowed to dry out between uses. 


At least 10% of all proceeds are donated locally and globally. Thank you for helping to Share Soapy Love with your purchase!
Share
View full details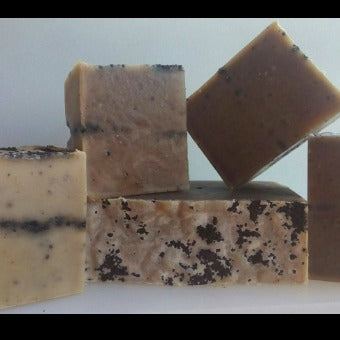 Share the Soap is a manufacturer of goat milk products based in Southern IL